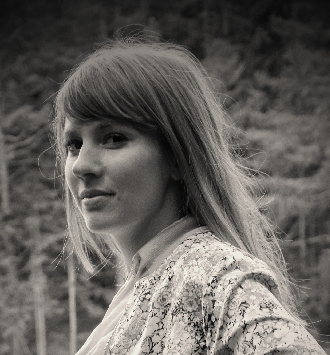 Carmen Fetz b.1986 in Schwaz, Austria
Media artist
After a master's degree at the University of applied arts, Vienna, my artistic interest shifted to socially engaged art and installations in the public space. My practice also includes experimental and documentary film making.
2014 Master of arts in art and communicative practice | Prof. Barbara Putz Plecko
& design architecture environment | Prof. James Skone at university of applied art
also master´s degree in Spanish studies
2011 Studying at the University of Seville Spain
2006 Street Worker in Santa Cruz, Bolivia

Prices
2015 Sofie- Fohn Stipendium
2015 Christoph Klauser-Kunstpreis for socially engaged final degrees
2011 Youngcreativechevrolet Austrian Short-film competition
2010 Performance based scholarship from the University of applied arts

Projects in the Public Space:
Sonic Trash. soundinstallation. at Maria-Theresien-Straße. Innsbruck 2020. ongoing
Parkbank Transfair. videoinstallation in Volders 2020. Austria.
Flat white open. intervention at hannovermarket. Vienna 2016 with Anna Watzinger
Vitrage Virtuell. Deconstruction Site. projection in the public space. Vordere Zollamtstraße. Vienna 2015
Public Seeing. Prolog#1 interactive projection in the public space. at Oberer Stadtplatz. Hall in Tirol 2014 with Johanna Huter, Johannes Bodner, Matthias Nicolussi- Castellan
Karlsplatz Gänseblümchen. intervention at Karlsplatz and Seestadt Aspern. Vienna. June 2013
Kanalarbeiten. intervention at Donaukanal. August 2012
unter_brücken. concept for public intervention 2012
Hang Looose. Super City Slow Survival. series of interventions. Vienna. March – June 2007 with Anna Demmelbauer, Anna Großmann und Katharina Karner

Selected exhibitions

Group Exhibitions:
Suspensions. GibCa Extendend. at Kulturtemplet. Gothenborg. 16/09 – 19/09/2021
Reich für die Insel. at Kubus vorm Landestheater. Innsbruck 21/09 – 13/11/2019
Fest i Nova 2017. at Art Villa Garikula. Akhalkalaki Village 30/11 – 18/11/2017
Rutine/Prayer/Deconstruction. Dome STP Bandung (NHI). Indonesia 10/06/2015-13/06/2015
TATENspeicherung KUNSTtranSPORT. at Lobkowitzgebäude. Hall 22/11/2014 & Café WHA. Lienz 28/11/2014
Greetings from Gjymri at Roter Lichthof. University of Applied Arts. Vienna 21/11 – 26/11/2013
Faces at Eghishe Charenc 12. Gyumri. Armenia 15/10 – 22/10/2013
Druckausgleich KUNSTtranSPORT. at theater szenario in Hall in Tyrol 18/10/2013. at club44 in Lienz 11/1/2013 and at q-west in Kufstein 29/11/2013
Essence 2013 at Künstlerhaus. Vienna 25/06 – 14/07/2013
Stress Kunst Liebe über | arbeiten. at Hufak Offspace. Vienna 22/05 – 01/06/2013
Artistic reflections. Pyhäjoki. Finnland. August 2013
Ernst Wartet at WUK. Vienna 25/10 – 29/10/2010

Solo Exhibitions:
In_visible at Andechsgalerie. Innsbruck 05/06 – 22/06/2014
Kanalarbeiten at Adria. Vienna 30/08 – 07/10/2012
Films:
One/ Minute 2013 (Documentary)
Transit Hall 2013 (Documentary) Screening: 25/05/2013 Maydays Friday Exit. Vienna
Encuentros 2012: Screening: 02/03/2012 Rincón del Búho. Sevilla. Spain
Beautifully Short 2011 (Stop Motion): Screening: 13/05/2012 Künstlerhauskino and
22/06/2013 Schikaneder: Frame In. Vienna
Party Animals 2011 (Stop Motion): Second Prize winner at Youngcreativechevrolet Austrian Competition
Tabu(es) 2011 (Documentary): Screening: 3/6/2011 Schikaneder and 16/06/2011 Filmfest dieLINSE. Vienna

Scholarships and Residencies:
Residency at Art Villa Garikula. Akhalkalaki. Georgia 2018
Art and Cultural Scholarship. Makassar. Indonesia 2015
Scholarship for a Residency. Case Pyhäjoki – Artistic reflections on nuclear influence Transdisciplinary expedition, production workshop and events in Pyhäjoki. Finnland
Working Scholarship from University of Applied Arts 2013
Scholarship for a 3 month internship the Peggy-Guggenheim Collection. Venice. Italy Ran daily museum operations, including guarding the temporary exhibition and permanent collection. I attended seminars of the Museum's Director Philip Rylands and the Chief Conservator Paul Schwarzbaum. I also prepared tours, talks, workshops for children and gave a lecture to the other interns on the feminist point of view of Jackson Pollock's art works. Venice. Italy. August and December 2010
Scholarship for a 3 month internship at Cahide Erel ceramics manufacturer in Istanbul. Turkey 2008

Other Participative Art Projects, Workshops and Education
Offering Animation Workshops in schools. Tyrol. April- June 2014
Participative Art Project in Gjymri. Armenia. We (a Project group from the University of applied Arts built up a network for future artistic collaborations and directed workshops in an orphan's home and the Austrian child- hospital. There is also a small publication from this Project called "Begegnungen". Vienna/ Gjymri. 01/2013- 10/2013
Kunstraum Niederösterreich. concept and realization of an interactive exhibition tour and which was part of the publication of Kunstraum Niederösterreich. "Wer spricht" Vienna. November 2012
Designforum. concept and realization of an interactive exhibition tour for the James Dyson exhibition: Sturm gegen den Stillstand. Vienna. November and December 2011
Project with a group of Turkish migrants in collaboration with Piramidops Frauentreff am Volkertmarkt aiming to empower these women to express their stories in an artistic way. The whole project took place in the framework of an University Seminar dealing with the big questions "Kunst für? mit? oder über andere?" 03/2010-07/2010
Work at Kinderuni, an event that takes place every year and offers children courses at universities. Concept and realization of a haptic interface design Vienna. July 2011
Planing and Realisation of Workshops at the International Kids Carnival in Venice within a project group of the University of applied Art. Venice 03/2008- 10/2008
Important Workshops/teachings/talks and active participation in Conferences
InSea "Diversity through art" 34th World Congress of the International Society for Education through Art. Melbourne. Australia (Paper: "Community Art, Social & Intercultural Learning") 2014
BagBild Bundesarbeitsgemeinschaft fur bildnerisches Gestalten und visuelle Bildung in Mattsee. Austria (theatre performance) 2014
_________________________________________________________________________________________________________________________________________________________
Contact
Diese E-Mail-Adresse ist vor Spambots geschützt! Zur Anzeige muss JavaScript eingeschaltet sein!